Sarah Hanson-Young awarded $120,000 damages in defamation case against David Leyonhjelm
This article is more than 8 months old
Greens senator sued after parliamentarian refused to apologise for comments she said amounted to 'slut-shaming' her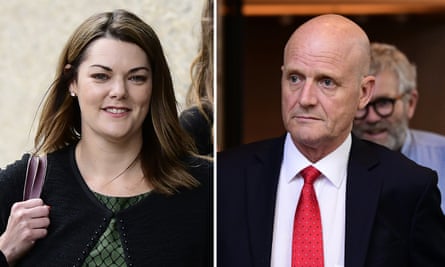 Greens senator Sarah Hanson-Young has been awarded $120,000 in damages after winning her defamation case against the former Liberal Democrat senator David Leyonhjelm. Composite: Bianca de Marchi/AAP
David Leyonhjelm will be forced to pay Sarah Hanson-Young $120,000 plus interest after a judge ruled the former senator defamed her in a series of interviews last year.
On Monday the federal court justice Richard White ruled in favour of Hanson-Young, agreeing that Leyonhjelm's comments in a series of interviews did carry the imputation the Greens senator was a misandrist and a hypocrite.
White found Leyonhjelm's defence of justification and qualified privilege had failed and awarded Hanson-Young $120,000 in damages, with interest and costs to be decided at a hearing in December.
At a press conference outside of parliament on Monday Hanson-Young said the victory was for women who had been "made to stay silent".
"When a man does the wrong thing he should apologise, and when he doesn't he should be called out," she said.
"And that's what I did in this case – and I did it, not for me, but for every woman and girl across the country who has ever been told to stay silent, made to stay silent.
"Made to feel as if speaking out … would cause more harm. It is absolutely important that every young girl knows they have the right to be treated with respect and treated equally … in the classroom, the workplace, if she works in a shop, the front bar, or here in the nation's parliament."
Hanson-Young has said she will donate the damages to two women's groups – Plan International and the South Australian Working Women's Centre.
"This is an important day for this parliament to put a line under this type of behaviour," she said.
"It doesn't matter if you work in a shop or a factory floor or the parliament. Every woman deserves to be treated with respect. If you see someone doing the wrong thing stand with that woman and help call it out."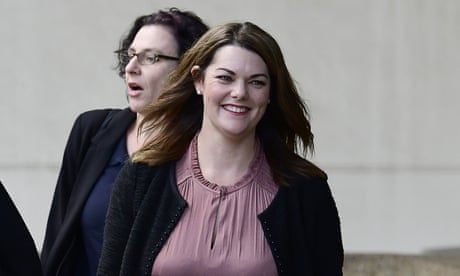 Sarah Hanson-Young accuses David Leyonhjelm of sexism at defamation trial
The Greens senator sued Leyonhjelm after a feud in the Senate in June last year which began after a debate about women's safety. During the debate, Leyonhjelm told Hanson-Young to "stop shagging men".
The Greens senator accused Leyonhjelm of "slut-shaming" her after his comments drew widespread condemnation and sparked a national debate about discourse in the Australia's parliament.
She later filed defamation proceedings against Leyonhjelm after he refused to apologise for the comments, saying he had defamed her in a series of interviews he gave between 28 June and 2 July last year to Sky News, the Melbourne radio station 3AW and the ABC's 7.30 program, and in a media statement posted on 28 June.
In his published reasons, White ruled that Hanson-Young "did not speak words along the lines" which Leyonhjelm attributed to her. Instead, he found, it was likely the former Liberal Democrats senator heard "that which he was predisposed to hear by reason of his pre-existing opinion" of Hanson-Young.
He found the Leyonhjelm's "failure to check the accuracy of his belief as to what the applicant had said" meant his conduct was "unreasonable" and that he was "actuated by malice in that he published his claim concerning the applicant to a mass audience with the intention of publicly shaming her".
Leyonhjelm had argued that his comments were not defamatory because as politicians people would already have formed "firm views about them."
But White found that while the "political environment" was "a relevant consideration" in assessing damages, the "persistence" with which Leyonhjelm made the comments across a number of interviews "meant that ordinary reasonable persons would have been led to think less of the applicant".
"I have also accepted that some of the harm suffered by the applicant was caused by an imputation on which the applicant did not sue," White said.
"The parties referred to this imputation in the trial as the 'promiscuity imputation'."
Hanson-Young said she had been defamed by Leyonhjelm's portrayal of her as a hypocrite and misandrist, in that he alleged she said words in parliament that were "tantamount" to claiming all men are rapists but "nevertheless had sexual relations with them".
During the April trial, Hanson-Young accused the former senator of sexism during cross-examination, saying he "called me a hypocrite because I have sex with men".
"What's sexist about that?" Leyonhjelm's barrister, Tony Morris QC, asked during the trial.
"He wouldn't say it to a man," she replied.
https://www.theguardian.com/australia-news/2019/nov/25/sarah-hanson-young-awarded-120000-damages-defamation-david-leyonhjelm